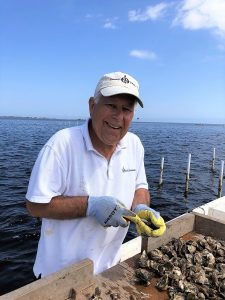 Olin and Associates is a progressive organization of conservation oriented assets and associates, creating sustainable solutions, strategic plans, creative marketing ideas and sales systems to individual companies as a team of experienced leaders. We are currently partnered with the following Companies:
Estuary Oysters
Spring Creek Oysters
Seagrass Oysters
Keystone Oysters
Garlick Environmental Group
Vericatch
Oyster Tracker – www.oystertracker.com
CARR Riggs & Ingram CPA
Greenberg-Traurig Law
Fish 2.0
FAMU College of Environmental Studies
Wakulla Environmental Institute
Clean Energy Technologies Center
St. James Bay/Audubon Signature Golf
Jacapps Media
Atlanta IT Services
We are focused on the following markets:
Apalachee Bay
Apalachicola Bay
Spring Creek
Forgotten Coast
Tallahassee
Pensacola
Jacksonville
Orlando
Miami
Tampa
Atlanta and Thomasville, Georgia
Olin & Associates can help you !
All strategies Olin & Associates pursues are based on these questions:
What is your "Why"?
Is your pursuit creative and/or original?
Does it maximize your available assets and opportunities?
What assets can be leveraged?
Is this marketing or advertising? Promotions or partnerships?
Who is your ideal customer/market?
Strategy, tactics, targets and timelines: What are they?
What mediums will maximize your return on investment?
What "Mission" should your plan be built around?
Sustainable Solutions:
Environmental Sustainability is the least expensive long term solution
Environmental Sustainability is the most profitable long term solution
Commercial profitability is essential to environmental sustainability
What environmental market keystones what commercial markets
What is the best commercial/governmental target for your "Why"
What is the best use for your assets for sustainable growth
What will your success leverage for additional sustainability